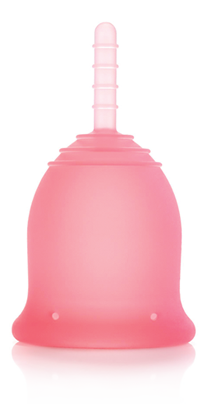 WHAT IS A MENSTRUAL CUP?
The Lena menstrual cup is a healthy and conscious alternative to pads and tampons.
Lena is a bell-shaped menstrual cup that collects your monthly menstrual blood. Inserted like a tampon, Lena sits comfortably in your vagina and offers a leak and sensation-free period.
Lena was designed for an active modern user. You can dance, run, swim, ride a bike, and use your cup overnight. Lena is ideal for menstruating people of all ages, body shapes, and experience levels. You can wear Lena for up to 12 consecutive hours before having to empty your cup.
Lena helps maintain a healthy pH level so you can stay naturally moist and comfortable throughout your period. Lena allows your natural fluids to retain their normal flow and only collects your blood without causing dryness or itchiness. Inserted like a tampon, Lena's flexible design moves with you while offering complete protection and comfort. It is important to research options and be aware of both the manufacturer and the materials, to ensure that the cup is safe and ethically produced.
Since you only need one Lena Cup, you no longer need to buy bulky disposable products that end up in our landfills and oceans – keeping your cup clean and away from pets and detergents will ensure that your Lena lasts for years.
Lena is made of premium medical-grade silicone and dyes that have gone through numerous biocompatibility testing, and do not leach any chemicals or irritants. Lena Cup is hypoallergenic and latex, dioxin, and BPA-free. Unlike disposable products, with Lena you never have to worry about inserting bleaches or chemicals into your vagina.